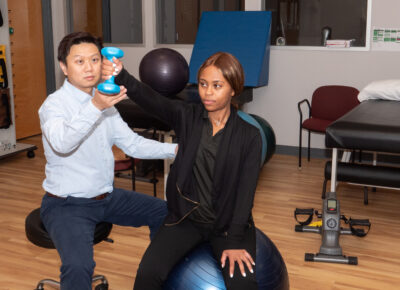 Aches, pains and injuries can keep you from fully participating in your everyday tasks and activities. Nobody should have to live in pain or be restricted from doing what they want to do.
That is why our team of specialists is dedicated to using the latest techniques and research to help you uncover the issue behind your pain—so you can get back to being you again.
We believe that everyone deserves efficient, individualized and cost-effective physical therapy treatment. We treat you like a member of our family, not a number. We provide individualized therapy services with licensed professionals who use evidenced based practice, manual therapy techniques and patient education.
How do I know I need physical therapy?
Physical Therapy includes evaluation, individualized treatment plan, application of therapeutic modalities, prescription of therapeutic exercises and activities, as well as education of fall and injury prevention. If you have an injury or illness that results in pain, physical impairment or limited normal movement / loss of function, our physical therapists can help.
What Conditions Can be Treated with Physical Therapy?
Back and Neck Pain
Stroke
Fractures
Spinal cord injury
Sports injuries
Arthritis
Fall Prevention
Parkinson's
Work-Related Injury
Dizziness
Car accident
Personal injury
If you are undergoing or recovering from orthopedic surgery (short and long-term conditions
What Does a Treatment Plan Include?
Functional Capacity Evaluation
Fall prevention/balance training
Wellness programs
Therapeutic exercise program
Soft tissue mobilization/instrument-assisted soft tissue mobilization
Joint mobilization
Manual therapy/active release/massage techniques
Dynamic taping
Hand therapy
Orthopedic care